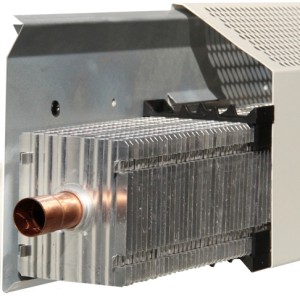 Silent Fin Heating Edge baseboard from Smith's Environmental is the perfect complement to today's high efficiency heating equipment. Ideal for both residential and commercial applications, Silent Fin is designed to provide maximum output at lower temperatures. Utilizing features to enhance the benefits of hydronic heat, Silent Fin is a quieter and cleaner alternative to conventional high temperature emitters. Combining an attractive exterior with rugged construction, Silent Fin can withstand the rigors of high traffic locations. Whether used to enhance the performance of high efficiency heat generators or as a superior replacement for traditional high temperature emitters, Silent Fin's exceptional performance characteristics make it the ideal choice.
Silent Fin Heating Edge from Smith's Environmental incorporates an efficient design with attractive, robust construction. The coil block is made up of a single 3/4″ copper tube encased in aluminum fins featuring exclusive embossed channels designed to promote turbulent air flow thereby maximizing their heat transfer capabilities. Incorporating a Tabbed 5-Point Space Design to ensure continued performance, the aluminum fins help to create "Best-in-Class" performance outputs at both high and low temperatures. The attractive cover, made from 20 gauge rolled steel, features a perforated grille providing maximum free space thereby permitting maximum convective flow of heated air. This ingenious design also enhances safety by reducing the likelihood of human contact with the heated coil block.
Features:
Quiet delivery of heat
Attractive Design
Superior low temperature performance
Perfect for use with solar thermal, geothermal or condensing boilers
Single pipe design
Suitable for residential or commercial applications
The unique design Silent Fin Heating Edge from Smith's Environmental ensures that installation is as easy as 1, 2, 3! Designed for ease of installation, the coil block includes pre-installed "glide clips" which have the effect of reducing the noises usually associated with baseboard heaters. The clips also include a molded cradle designed to accommodate return piping in areas where this is required. With an attractive durable finish, the cover is easily removed for cleaning and redecorating. And the back plate, pre-drilled 16″ on center for convenience, is not part of finished look thereby permitting room decorative surfaces to be completed without damage to the finished product.
| | | | |
| --- | --- | --- | --- |
| Length (feet) | Complete Assembly: Core, Cover & Back Plate | Element Only: 3/4″ Copper Core Only | Trim Fit Includes: Cover & Back Plate, Core Not Included |
| 2′ | HE3-2075W | HE3-2075EO | HE3-2075TK |
| 3′ | HE3-3075W | HE3-3075EO | HE3-3075TK |
| 4′ | HE3-4075W | HE3-4075EO | HE3-4075TK |
| 5′ | HE3-5075W | HE3-5075EO | HE3-5075TK |
| 6′ | HE3-6075W | HE3-6075EO | HE3-6075TK |
| 7′ | HE3-7075W | HE3-7075EO | HE3-7075TK |
| 8′ | HE3-8075W | HE3-8075EO | HE3-8075TK |
 Downloads: