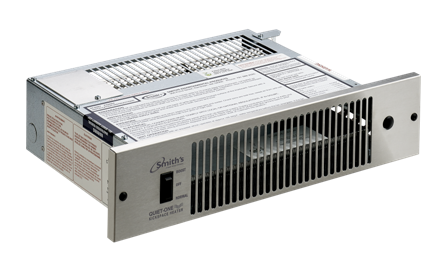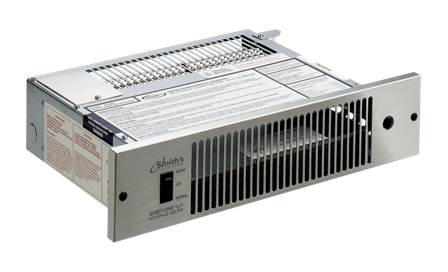 Quiet-One Kickspace Heaters from Smith's Environmental Products, sometimes referred to as plinth heaters, are designed to provide a unique yet purposeful solution to those "hard-to-heat" areas. With four sizes to choose from plus several accessories, the Quiet-One 2000 Series offers great flexibility and units can be matched more precisely to the demands of the job site. Our kickspace heaters are perfect for kitchens where space is at a premium, and they make a great alternative to kitchen radiators and baseboard.
Gain Extra Counter & Cabinet Space By Adding A Smith's Quiet-One Kickspace Heater!
The Quiet-One 2000 offers high BTU output at low decibel levels. Maximum BTU output from a small footprint is the hallmark of the Quiet-One 2000 products. This ensures maximum utilization of floor and wall space in such rooms as kitchens and baths where space is at a premium.
Easily Installed
No screws required.
Quiet-One 2000 Series kickspace heaters are totally enclosed units which slip easily under a cabinet or in a wall. The grille is removable and the chassis does not have to be screwed to the floor. All that is required are solder connections and power to the easy access junction box. Once these connections are made, the installation is complete. To further simplify your installation, we offer "quick fit hose kits." These kits will decrease your installation time as well as provide you with flexibility on both new construction and renovation work where the consumer does not want an access panel cut into their new cabinetry.
Application Flexibility
Limited only by your imagination! 
Our Series 2000 kickspace heaters are engineered for use in hard to heat places such as kitchens, stair risers, dressing rooms, bookcases, booth seating in restaurants, pubs and many other low level areas. We can be hooked up to boilers, hot water heaters, heat exchangers, ground source heat pumps, geothermal heat sources and reclamation heat sources.
Energy Savings
Peak performance at lower costs.
Quiet-One 2000 Series kickspace heaters have a highly efficient heat exchanger with low water content which allows the built-in thermostat to respond quickly, saving fuel (because it only operates when the boiler is on) while supplying warm air throughout the kitchen. The combination of the "High E" heat exchanger and a low power motor and a fan with "easy glide" sleeve bearings ensures low electrical usage (equal to a 40 watt light bulb).
Models:
KS 2004
KS 2006
KS 2008
KS 2010
Downloads: