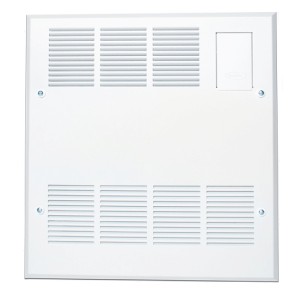 The KSWK and KSWK2010 Quiet-One 2000 recessed wall kits continue the tradition of supplying flexible solutions for those hard to heat areas. These wall kits can mount in any wall of the house or be installed in the end of cabinets or bathroom vanities. They can be used in dressing rooms, walk-in closets or in mud rooms and entry ways.
The cover is painted with a high grade primer finish which may be used as is or can be painted, papered or marbleized.
The KSWK Quiet-One recessed wall kits have been designed to accept Quiet-One 2000 model Kickspace Heaters. The KSWK Wall Kit accepts the KS 2004, KS 2006 and KS 2008 kickspace heaters, while the KSWK2010 must be used with the KS2010 heater.
Kits and kickspace heaters must be purchased separately.
Models:
KSWK (fits KS 2004, KS 2006 & KS 2008)
KSWK2010 (fits KS 2010)
Downloads: